Deep Relaxation Yoga Nidra Course
with Irena Brnic  I  Thursday 21 October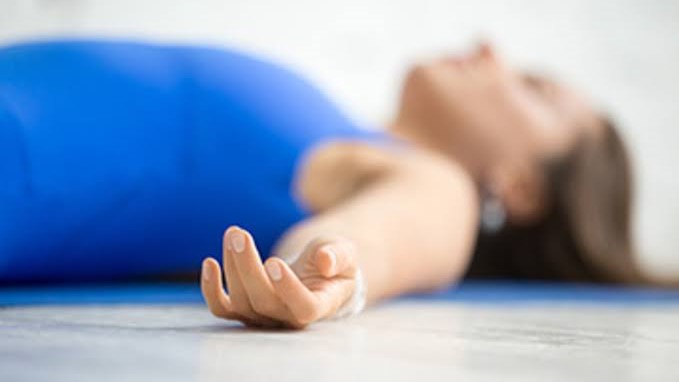 In these busy, uncertain times, being able to fully relax is essential for our health, well-being, happiness and success.
Join our special four-week course to learn the lying practice of Yoga Nidra (yogic sleep) and experience the profound relaxation and healing benefits. Learn how to deeply restore balance to your body and mind. Learn how to relieve stress, ease anxiety and overcome insomnia, leaving you feeling calm and centred.
There's no previous yoga experience required – we start from scratch.
"Nothing has quietened my mind like your Deep Relaxation Course. It soothed my anxiety in a way that lasted through the week. I loved it – thank you!" ~ Tess
The Benefits
Deep relaxation is the direct opposite of stress. It is an experience far beyond just sitting down with a coffee, having a beer, watching television or lazing at the beach. These involve sensory diversions. For absolute relaxation to take place, there must be a genuine slowing-down of the nervous system and a 'turning inwards' away from outer distractions and experiences.
When we know how to remain relaxed, inwardly quiet and self-aware in our day-to-day life, we experience great mental and emotional benefits – we become more patient, less-stressed, are more effective at work and develop a greater tolerance for others.
"Your Deep Relaxation Course exceeded my expectations. It was excellent and very worthwhile. Being taught how to properly relax and learn about the feelings associated with relaxation has helped me to better manage the ups and downs of life." ~ Amy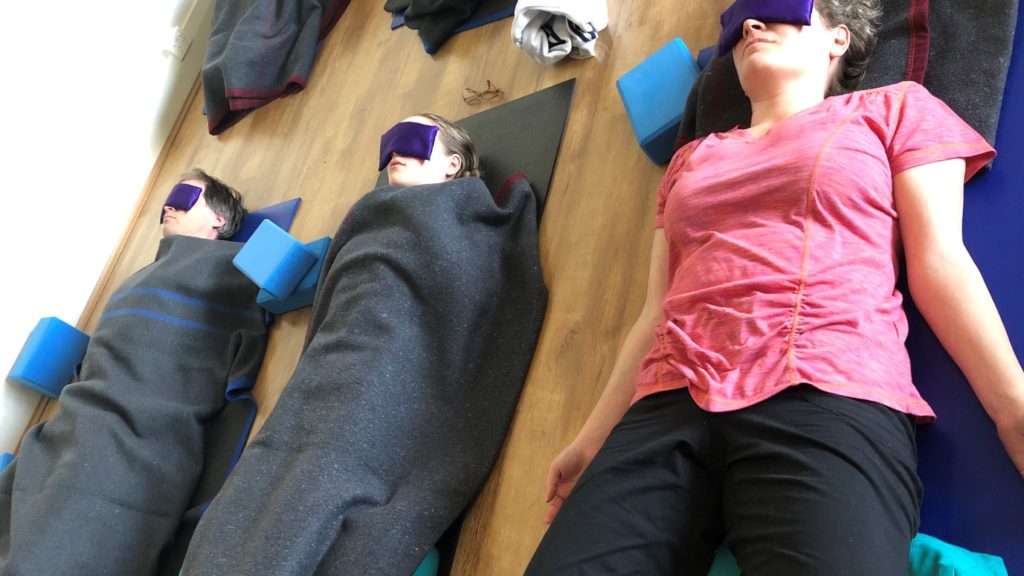 What You'll Learn
Our course offers a range of benefits for everyone:
Know first-hand how it feels to fully and deeply relax;
Learn how stress effects your nervous system and why there is no replacement for true relaxation;
Explore the power of the mind-body connection;
Do gentle pre-relaxation yoga postures and movements to loosen the hips, shoulders and spine;
Practice Yoga Nidra – deep and systematic body/mind relaxation techniques;
Use supportive lying postures and props for added support and comfort;
Discover better methods for your health and rejuvenation in daily living;
Feel a state of wholeness, tranquillity and greater well-being.
"Practising being still and allowing external stimuli to diminish was great. I learned how to relax and to give myself permission to deeply relax." ~ Anthony
What is Yoga Nidra?
Yoga Nidra is like the ultimate in relaxation. It is an ancient yogic practice and series of powerful relaxation techniques, meaning 'yogic sleep' – but it isn't the same as sleeping! It is that state of consciousness we normally experience between waking and sleeping that, when extended and deepened, has profound effects for our well-being and wisdom.

Our experienced yoga teacher Irena Brnic guides you through different techniques such as body scanning, visualisations, intention-setting and breath awareness. You learn to sense the different energies of the body, mind and any emotions, just as they are, witnessing and welcoming, feeling and letting-go.
Over time, as you learn to gain control over your relaxation response, it enables you to shift through deeply-entrenched negative patterns of thinking and conditioning to be more at ease and naturally 'yourself – enabling you to manage stress by tapping into your innate wisdom and knowing the answers to the questions and challenges you face in daily life.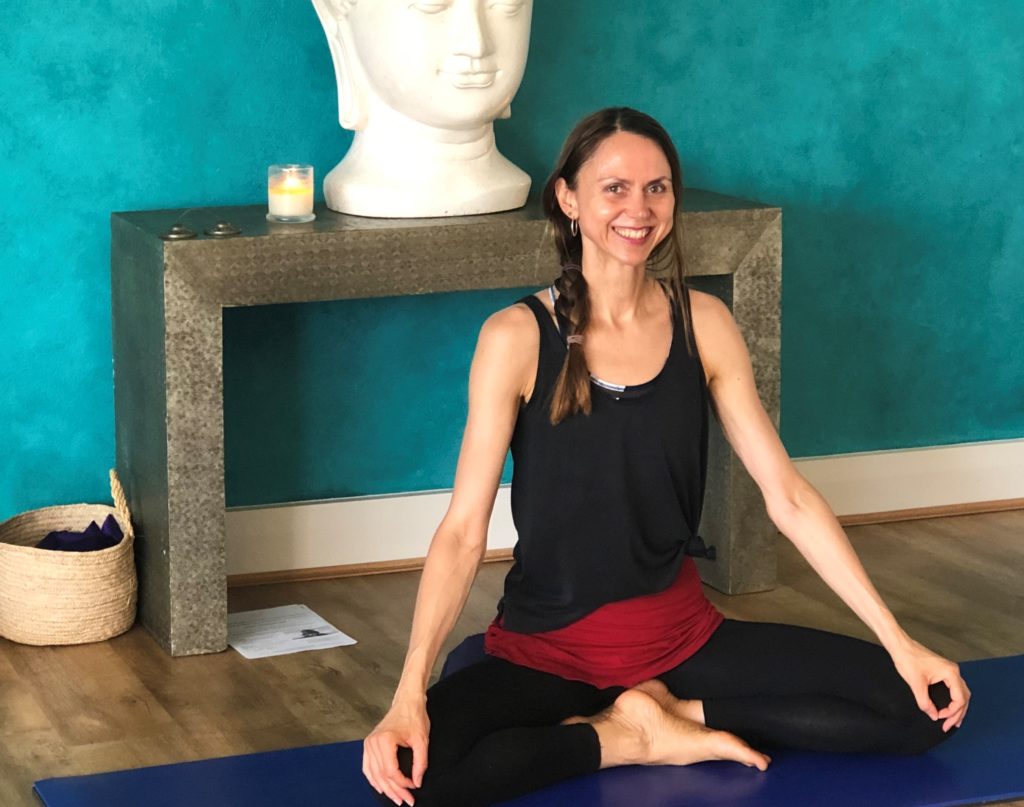 "I would absolutely recommend your Deep Relaxation Course to anyone who was struggling to relax and take a moment. I benefitted by learning to calm the mind and listen more closely to my body. I also appreciated the science behind Yoga Nidra." ~ Brooke
"The opportunity to completely relax and let-go for one hour each week – this doesn't happen often. I learned that I can do it and can continue practising Yoga Nidra for myself. I liked your style in presenting interesting facts about the practice – so it wasn't too 'out there' and had real'-life, practical applications." ~ Tara
"Your Deep Relaxation Course was amazing and I looked forward to it every week. I loved how the teacher explained what we were going to do as we went along. It was a great way for me to learn how to relax and function better in my life as a result." ~ Jacinta
Booking Details
Places in the course are limited to 15 students, suitable for both men and women (aged 18+). No previous experience in yoga or meditative practice is required. Experienced yoga students will also benefit from this deeper and cumulative approach to yogic relaxation.
Past courses have been popular, so we encourage you to book your place early to avoid missing out!

Once your payment is made, your will receive an emailed receipt to confirm your registration. Then the day before the course starts, we will email you a reminder with all of the details you need to know.
We look forward to welcoming you on this deeply nourishing course!
COST: $120

TIME & DAY: 7.30 – 8.45pm Thursdays

DATES: 21 October – 11 November 2021 (4 weeks)

BOOK HERE: