Kirtan Chanting & Chai
With Bhakti Rasa: Asakti Evans, Branan Silvius & Jamie David 
Saturday 25 June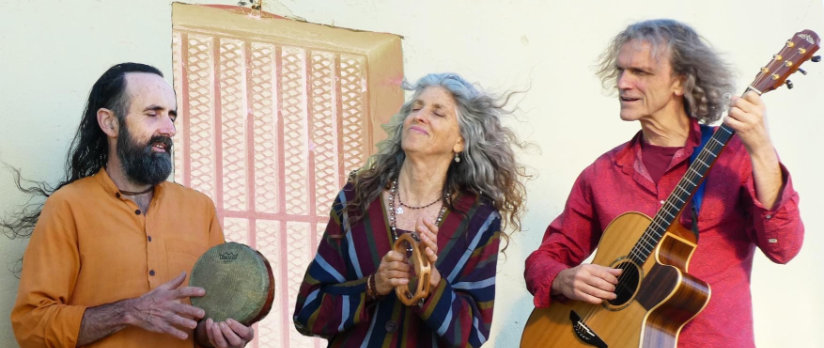 Join us in the peaceful ambience of the St Christopher's Church hall and experience the profound healing, centring and pure joy of chanting – the yoga of song – and connect with others in our friendly community.
Yogic chanting with Bhakti Rasa involves repeating sacred mantras and sounds to create a high-energy vibration in the body and mind – bringing us back to our innate, loving presence.
Asakti's beautiful, strong vocals and vibrant presence leads us through the sacred sounds and mantras in the traditional form of 'kirtan' – chanting via call and response. Asakti is accompanied by Branan Silvius, a dedicated Druhpad vocalist of Hindustani Raga music, along with Fremantle musician-singer-songwriter Jamie David. Listen to Asakti, Branan and the Momentum community chanting here.
Like singing, chanting is energising and great fun! It gets us beyond our mental chatter and into the depths of our heart.
Chanting is for everyone – it requires no experience or singing ability.
If you already practice yoga or meditation, then chanting is another dimension of authentic practice and a powerful way to deepen your Self-exploration and inner peace.
If you're new to chanting, just love music or a good singalong, we'd love to welcome you! Chanting is a non-judgmental exploration of the heart, independent of vocal skill or musical technique.
"Thanks for such a wonderful evening. The chanting was amazing, incredible vibrations and feelings of joy." ~ Carli
We keep it simple and real – there's no frills, but plenty of heart and soul!
Stay afterwards and join our friendly community for a chat over a healthy vegetarian supper – including our delicious homemade chai. That's warm, milky, Indian-spiced tea, caffeine and dairy-free.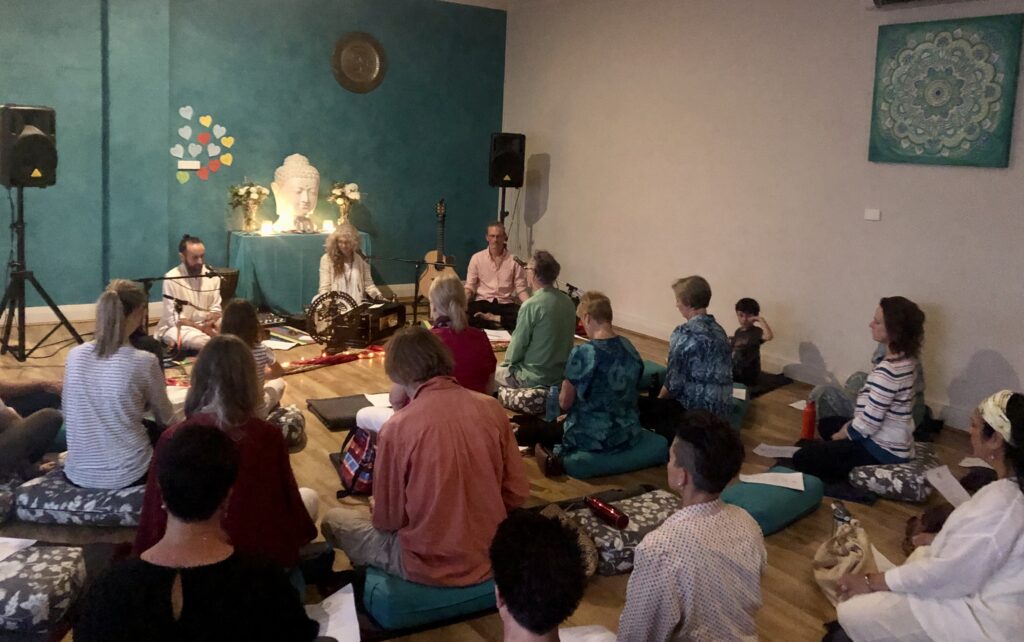 The benefits of chanting include:
Easing an anxious or troubled mind.
Relaxing tension in the body.
Opening the heart.
Being happy and joyful for no good reason!
Feelings of natural love.
Deepening of Self-awareness.
Promoting healthy emotional expression and release.
"When our voices unite, it brings us closer to each other and into the natural joy of our own hearts." ~ Natalie
More About Chanting
Chanting has its roots in traditional Bhakti Yoga in ancient India, stemming back around 5000 years. And it is one of the pure forms of 'devotional practice' still alive and well in India today. Here in the West we are coming to appreciate chanting's profound healing and spiritual value.
The mantras we chant are simple to learn – and words are provided. Spiritual without being religious, they are often sung in Sanskrit, the ancient language of Yoga, and represent different forms of the divine in the Indian culture such as Shiva, Krishna, Buddha or Ganesh.
Mantras are about the universal journey of the human spirit, the nature of the human heart and the beauty that resides in each of us.
Booking Details
Seats at our chanting events are limited and pre-booked tickets are recommended. Online ticket bookings close at 4pm on the day of the event. Door sale tickets are available, if places remain.
Please read our Covid Info for details on any current restrictions and the steps we are taking to safely manage events.
Once your booking payment is made, you will receive an emailed receipt. Then on the day of the event, you will receive an email reminder with all of the details. If you can no longer attend and email us by 5pm on the day of the event, you may choose to 'gift' your seat to another person. However, we are unable to refund or transfer your booking to another night – thanks for your understanding.

Your ticket includes a vegetarian supper and our homemade chai! We look forward to welcoming you.
DATES: Saturday 25 June 2022
TIME: 7.00 – 8.30pm followed by supper
COST: $25 full price | $20 concession (seniors, students and health-care card holders)
VENUE: St Christopher's Anglican Church Hall, 120 Waddell Road, Bicton
BOOKINGS: If you are paying for a second person, please include their name, email address and phone number as a 'note' with your booking.