Online Class Information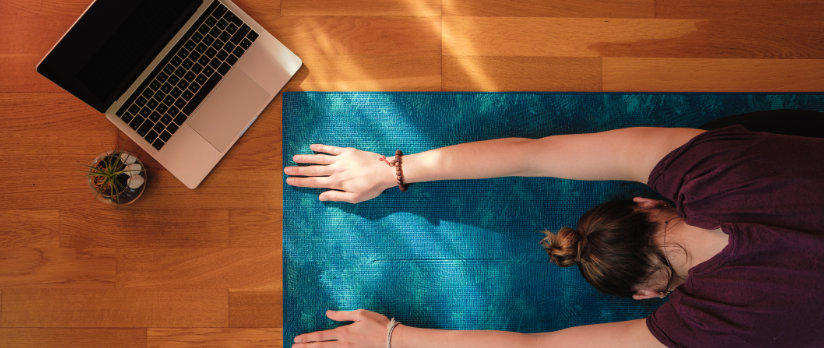 Due to Coronavirus restrictions, from time to time we may teach our yoga classes 'live and streaming online' when either our studio is directed to close or due to severe restrictions in people allowed in the studio venue. As from Tuesday 29 June 2021, our studio is closed and ALL our daily classes (except beginners) are now streamed 'live' online. Please check in again in case circumstances change.
Welcome to our virtual community!
We understand that making the leap from our beloved studio-based, group yoga classes to practising yoga at home and online is a big shift for many people, especially if you are not so tech-savvy. Yes, it is different. But, it is also amazing! It is the best service that we can offer you during these times – and a wonderful way to remain connected to community, to your yoga practice and with yourself.
The tremendous benefit about practising yoga in your own space is that it develops your healthy self-discipline and commitment. Each time you make the choice to practise yoga and do it, you strengthen your resilience to make good choices for yourself, despite whatever might be going on in your life. We are here for you – we will lead, guide, engage, support and encourage you. AND we will make you laugh and smile. All in real-time, from wherever you are. Together, we've got this!
By following these tips to get yourself set up and booking into classes, will help you to get the most out of your online yoga experience with us.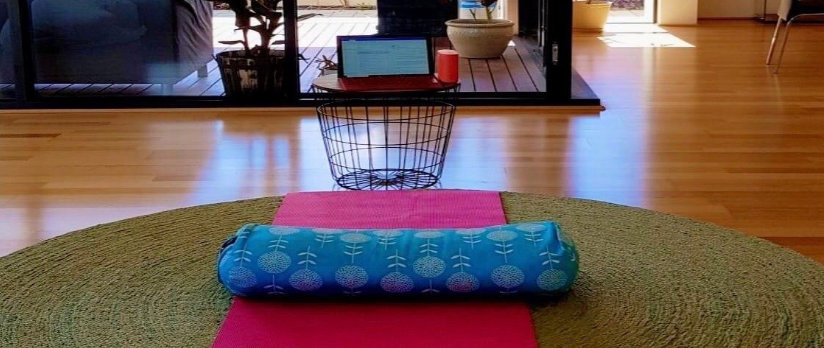 First time set up – what you need
All you need is:
A reliable internet or WIFI connection 
A screen or device (i.e. smart television, computer, Ipad or Iphone) that also has your email account on it and accessibility to Zoom, the online meeting program – we suggest the screen size of an Ipad or larger is best for easy viewing, an Iphone can be too small.                 
A comfortable, quiet, private space at home where your device is set up – being free from interruptions is important! 
A yoga mat – we sell a range of yoga mats, if you need to buy one.
Optional yoga props – a bolster or firm cushion, a blanket or beach towel and a yoga block (a thick book like a dictionary is a great alternative!) are handy, supportive props to have.
How to book
It's easy! Simply book and pay via our website then we will send you a reminder email shortly before class starts with a link to join.
Go to our Class Timetable to see the daily classes we offer.
Before you can book you will need to establish or access your Punchpass account. Punchpass is our class booking system. 
Use your existing Class Pass or purchase a Casual Class Pass.
Click on your chosen class to make a booking.
The day before (as well as a few minutes before) your class, you will receive an email with a link to the Zoom class.
Click on the Zoom link to open the class.
Adjust your video and audio so that we can see and hear you and you'll be welcomed to the class by our teacher.
Handy information and tips
Places are limited to 15 people in each class – to keep it personal.
You can book right up until the class start time – bookings after the advertised class start time are not accepted.
Bookings can be cancelled right up to the class start time.
Every class has its own reminder emails and unique Zoom class link.
You can choose to have your video turned 'on' or 'off' during the class, to interact or maintain your privacy.
The teacher will invite you to say hello and to share your video, as you wish.
If you are having sound difficulties, please let the teacher know. Try leaving the meeting and rejoining as this often fixes and improves the Zoom sound quality.
If you don't receive our class confirmation and reminder emails before your class start time, please check your junkmail box. If you didn't receive the reminder email, it's most likely that you didn't book into the class!
If you have any difficulties please call us on 9330 1988 or email us as soon as you can.
Click here to return to the Class Timetable page to book into a class or purchase a new Class Pass.