Class Styles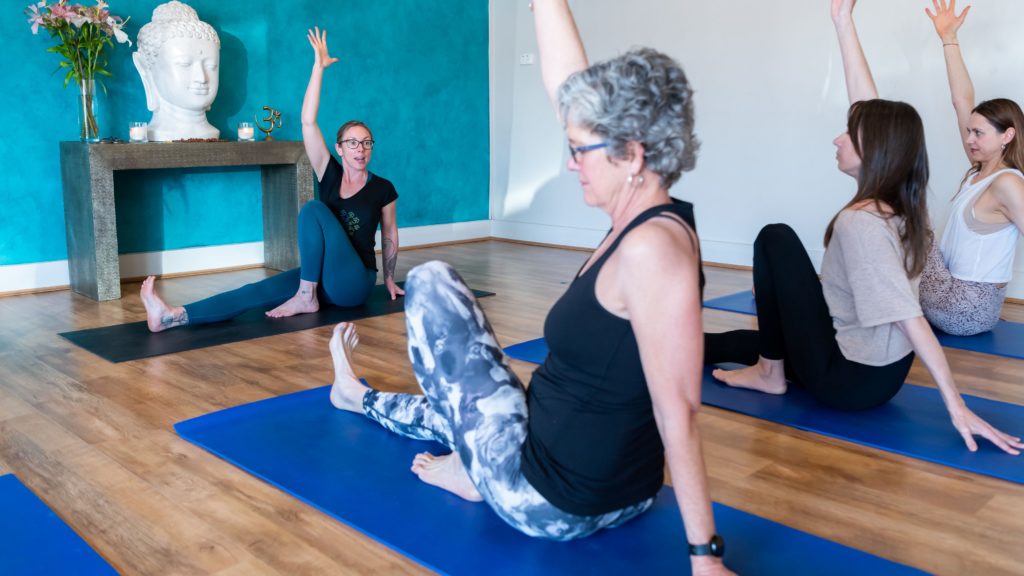 "The science of physical and mental harmony is known as Hatha Yoga." ~ Swami Muktibodhananda
There are many different styles and approaches to yoga practice. Understanding them helps you to decide the best classes to attend, given your level of interest and physical capacity. There's something for everyone!
The classes we offer at Momentum either explore body stillness or body-breath movement, or a combination of both – plus a few creative ones!
Beginners ~ all the basics and foundations of Hatha yoga including guided breathwork, strengthening postures and guided relaxation. Includes detailed instructions for safe body alignment. Suitable for men and women completely new to yoga, as well as those with some experience returning to yoga after an injury or a break. Learn more about our popular six-week Beginners Yoga Course that's great for men and women.
Deep Relaxation Yoga Nidra – also known as 'yogic sleep' involving the systematic, guided relaxation of the body, mind and senses whilst lying down to deeply restore balance. Relieves stress, eases anxiety and helps to overcome insomnia. Learn more about our rejuvenating four-week Deep Relaxation Yoga Nidra Course.
Hatha ~ held yoga postures, guided breathwork and guided relaxation to realign the body, balance energy and develop strength and flexibility. Postures can be supported and modified for all body types with the use of props. Suitable for all students.
Meditation ~ guided meditation techniques practised (mostly in silence) either sitting or lying down. Develops inner calm, concentration, open-heartedness and self-understanding. Learn more about our popular six-week Foundations of Meditation and Mindfulness Course.

Pregnancy Yoga ~ A specialised approach to empower women in all stages of pregnancy. Includes both strength-building and relaxing yoga postures, breath work and mindfulness meditation to ease physical, mental and emotional pregnancy challenges. Suitable for beginners and experienced students. See the dates for our next six-week Pregnancy Yoga Course.

Slow Flow Yoga ~ Slow yet steady yoga practice, along with mindful breathing. A combination of Vinyasa Flow and Hatha yoga that has fewer transitions than Vinyasa and more flow than Hatha. This style gently builds strength, vitality and flexibility. Suitable for both beginners and experienced students.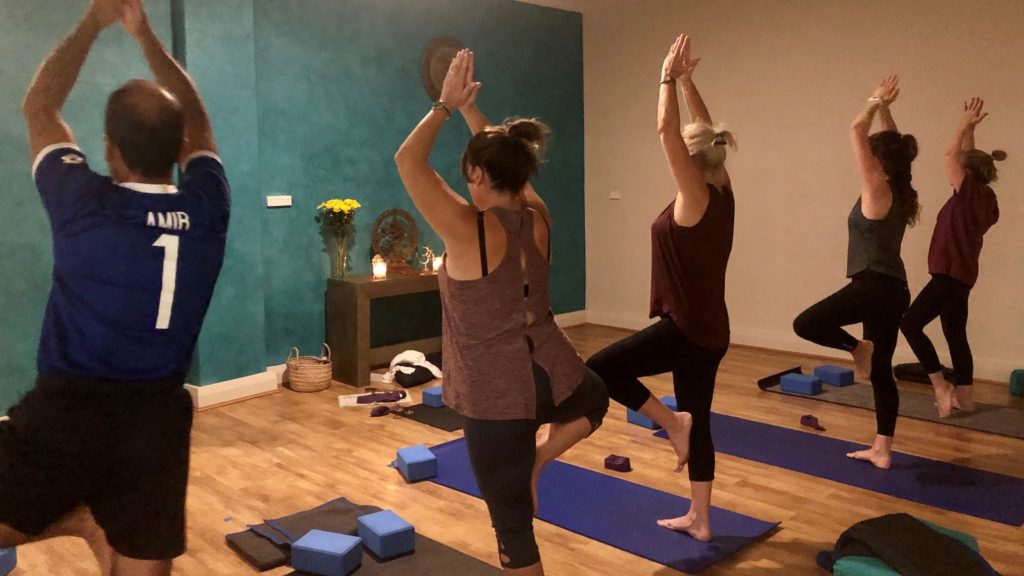 Vinyasa Flow Yoga ~ Creative, medium-paced flowing yoga sequences synchronised with an active breath that builds heat in the body and develops resilience, vitality and flexibility. When postures are performed in quick succession, heat is created in the body that helps to detoxify the internal organs and produces a light sweat. Suitable for students who enjoy a challenge and prefer a dynamic practice!
Vinyasa Flow + Yin Yoga ~ Active, flowing sequences to enliven the body, finishing with floor-based Yin postures for a sense of peace and relaxation. Perfect for those days when you seek a balance of movement and stillness.

Yin Yoga ~ A static, floor-based practice of lying, seated or kneeling yoga postures (without flowing movements) held for 3-5 minutes. The focus is on releasing tension and stagnation through the connective tissues in the body, targeting the pelvis, lower spine and hips. Builds inner strength and stillness, as a preparation for meditation.

To book into any of our classes, held seven days a week, 52 weeks of the year, go to our Class Timetable.