Sound Immersion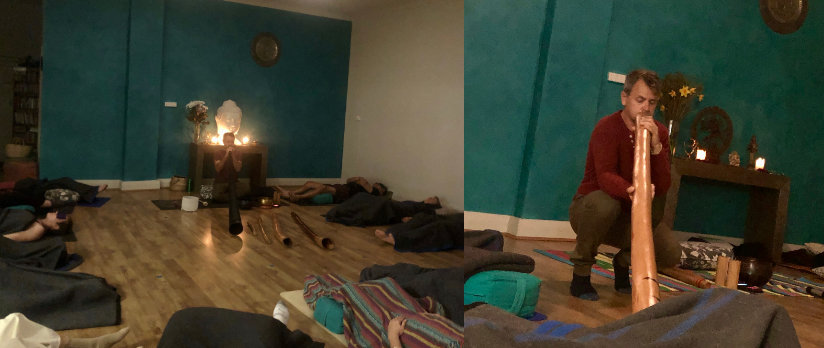 Feeling stressed, overwhelmed or over-stimulated? Are you challenged by an over-active mind or overcome by fatigue?
Come and experience the centring, transformational effects and soothing sounds of a Sound Immersion. This experience is deeply relaxing and grounding, often inducing a meditative state that promotes wellness and alignment with our true nature.
This hour-long session allows you to be absorbed in the unique sound vibrations of the didgeridoo, as well as Tibetan bowls, Koshi bells and Chilean cactus rainsticks to experience a deep sense of physical relaxation and inner calm.
This session uses sound and rhythm to create continuous waves of sound vibration within a sacred space, to soothe your nervous system. It is suitable for men, women (aged 18+) and is a popular choice for couples.
There's no 'doing' – just being. You passively participate by lying down, comfortably supported with a yoga mat, blankets, eye-pillows and cushions on the floor, as the sounds saturate your senses.
The Benefits
The benefits of a Sound Immersion can include:
Releasing stress and tension held within the body-mind-heart;
Creating a deeper sense of connection to Self;
An uplifted mood or lighter spirit;
Feelings of deep peace, calm, contentment and ease; and
Learning to let-go and relax fully into yourself, just as you are.
About Michael Hara

Hara, as he is known, is an experienced musician and meditation practitioner. He shares an authentic respect and connection with the Aboriginal community and culture.
From his childhood to his adult experiences in remote Aboriginal communities he has been able to absorb the role, respect, permissions and acknowledgement in his use of the Yiadki – the didgeridoo. He acknowledges the traditional custodians of the instrument, the Yolngu people and acknowledges the Noongar country on which he plays.
Hara creates the 'sacred space' for you to dive deep into relaxation.
Booking Details
No previous experience is needed for you to participate. Space is limited to 22 people and our sessions do fill-up! Pre-booking your place early is essential. Casual drop-in bookings on the night are only available, where space permits.
Once your booking payment is received, you will be emailed a receipt to confirm your registration. Then the day before the event, you'll receive a reminder email from us with all of the details.
If you are also booking for a friend or partner, please email us their name, email address and phone number for our records – thank you.
2021 Dates: Fridays 26 February, 26 March, 28 May, 23 July, 27 August and 24 September
Time: 7.00 – 8.00pm
Cost: $25 full price, $20 concession (seniors, students and health-care card holders)
Friday 24th September