Tension Release Myofascial-Yin Yoga Workshop
with Laura Cargill I Sunday 17 October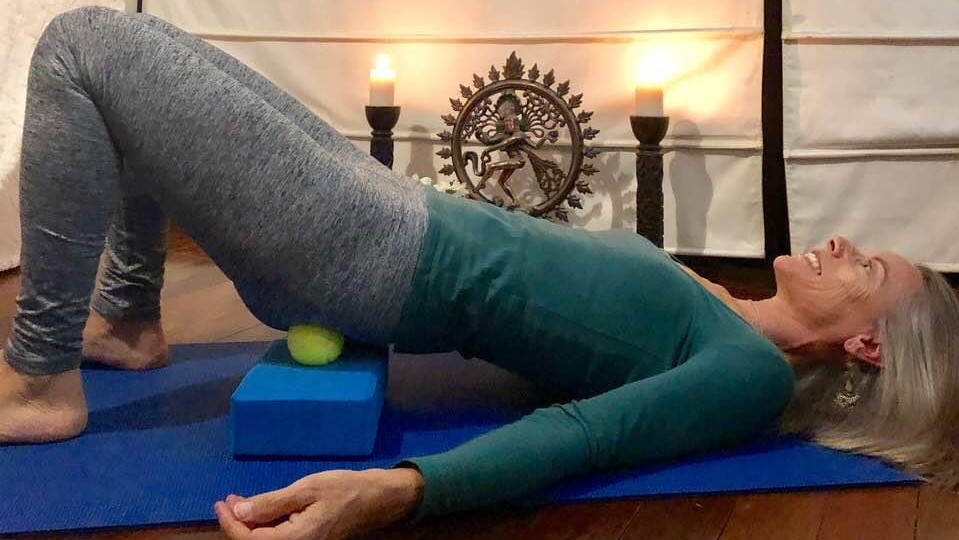 Yin yoga is well known to be deeply relaxing for stiff, tired and injured bodies – but add 'myofascial release' and this practice becomes physically and mentally transformational.
Join Laura to experience how to bring relief to your: aching back and shoulders; stiff neck and spine; as well as releasing the hips and hamstrings to experience a natural lightness and freedom in your body-mind.
Myofascial release is like a therapeutic self-massage. The myofascia tissue covering muscles and joints is gently pressed until the muscle stretches, becomes more pliable and the tension releases.
The techniques are simple and easy for everyone to learn. We will incorporate and explore specific ball techniques to access and release the pain and tension in your body.
Learn to transform how your body feels.
When we know how to directly release tension from our body, we can experience greater openness, mobility, health, mental ease and comfort, leading to our own transformation.
THE BENEFITS
This workshop will focus on releasing the neck, spine, shoulders and legs.
Understand how to release the trigger points in your body;
Reduce stiffness, immobility and pain from contracted muscles;
Learn how to work with chronic conditions like sciatica and neck pain;
Create a supportive environment for your body; and
Explore a practice combination of Myofascial release and yin yoga.
The workshop is suitable for both men and women, for beginners and people completely new to yoga practice, as well as experienced yoga students and yoga teachers wishing to expand or deepen their yoga journey. Couples are welcome! Those with stiff backs, tight hamstrings and/or hips will especially benefit!
ABOUT THE FACILITATOR
Workshop facilitator Laura Cargill (pictured above) is one of Perth's most experienced specialist 'yin yoga' teachers, having trained with international teacher Jo Phee. With a genuine gift for helping others, she has been practising, teaching and 'living' yoga for over 25 years.
"Laura's yin yoga workshops are excellent. I really enjoy the slow pace. It allowed me to really feel and experience my body in each posture fully. I found it to be an informative, relaxing, releasing and calming experience." ~ Sam
BOOKING DETAILS
Places in the workshop are limited to 15 students. We encourage you to book your place early!
To book, click on the below button. Once you make your booking payment, you will receive an emailed receipt from us that confirms your registration. Then the day before the workshop(s), you will receive a reminder email from us with all of the details.
Date: Sunday 17 October 2021
Time: 2.00 – 4.00pm
Cost:     $80 or $70 for Momentum Members (current Six Month Membership holders)
Venue: Momentum Yoga studio, Alfred Cove. See our Contact page for details.

BOOK HERE: 17 October Workshop