Sound Healing
with Nicole Lloyd, Sound 4 Life | Friday 12 August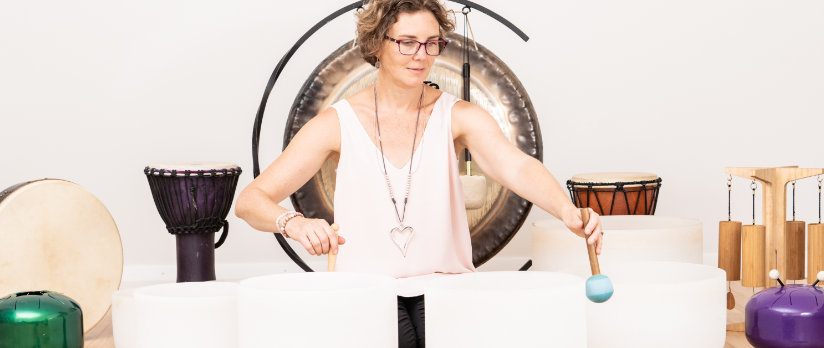 Come and enjoy the deep, nurturing rest of Sound Healing. Experience the centring, meditative, transformational effects that enhances wellness and alignment with our true nature.
Are the sounds in your life nurturing you? Or are they torturing you? Are they giving you energy or draining your energy?
You have been surrounded by sound before you were even born. It has been affecting you constantly since then, moving through you, around you and between yourself and others – just as ripples move through water.
Whether you are aware of it or not, sound has had an substantial impact on your moment to moment experience of life. On your physical, mental and emotional health and well-being.
"Each time I've attend Nicole's Sound Healing, her beautiful and perfect 'mix and melting' of instruments have taken me on a magical, mystical, deeply entrancing, free-flowing and blissful 'carpet ride' journey. Nicole is incredibly talented and truly amazing. You will most certainly float out of her session in a totally relaxed and blissful state – and are sure to have a very good night's sleep too." ~ Michele
How Does Sound Healing Work?
Sound Healing works by soothing and relaxing the nervous system. Sounds are played 'live' around you as you relax. A variety of Tibetan and crystal singing bowls, each with differing size, tone and frequency, along with gongs, chimes and other instruments are played, creating a continuous waves of sound vibrations throughout the studio space.
There's no doing yoga or anything else – you simply 'be'. You lie down (or sit, if you prefer) comfortably supported with a yoga mat, blanket, eye-pillows and cushions on the floor, and listen as the sounds saturate your senses.
You get to experience the direct, calming effects from receiving 'pure' and 'harmonious' sound vibrations.
The Benefits
After a Sound Healing session, participants often describe:
a sense of inner calm;
physical relaxation;
clarity of mind;
deep contentment; and/or
vitality and feeling energetically refreshed.
Sound Healing often leads to a profound, deep state of inner-peace, where a sense of 'timelessness' may be experienced. The tones produced by the bowls allows a deep-release of stress from the body and enables one to sense a higher state of consciousness.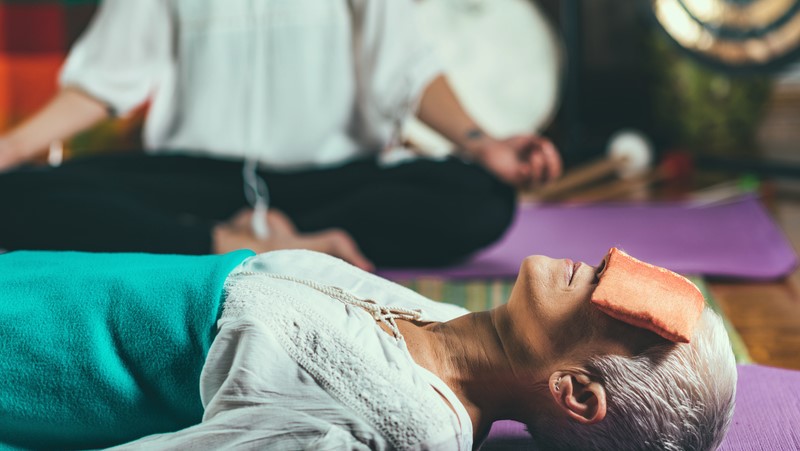 About Nicole
Nicole Lloyd of Sound 4 Life has always been interested and passionate about sound and music therapy, which led her to working with seniors, special needs and anyone who needs to relax a little! She is a musician with a Bachelor in Music and has a background playing the piano and double bass.
Nicole has been working with the crystal singing bowls and other high-quality sound tools since 2010. She loves relaxing groups of people with her sound healing and also teaches others how to facilitate their own sound journeys.
Nicole's other passion is about supporting pregnant women to birth their babies through the power of the voice and sound.
Booking Details
No previous experience is needed for you to participate. Space is limited to 25 people and our sessions do fill-up! We suggest pre-booking your place a week or so before. Online bookings are available up until 6pm on the night of the event. Last-minute places can be available at the door, only if places remain.
Once you've booked and paid a receipt is emailed to you that confirms your booking. Then the day of the event, you'll receive a reminder email from us with all of the details you need to know.

We look forward to welcoming you!

DATES: Fridays 15 July, 12 August, 9 September, 7 October, 11 November & 9 December 2022

TIME: 7.00 – 8.00pm
COST:   $25 full price, $20 concession (seniors, students and health-care card holders)

VENUE: St Christopher's Anglican Church Hall, 120 Waddell Rd, Bicton. Click here for a map.

BOOKINGS: If you are paying for a second person, please include their name, email address and phone number in the 'notes' section of your booking – thank you!