Pregnancy Yoga Course
with Marianna Garaboni | Wednesday 2 February 2022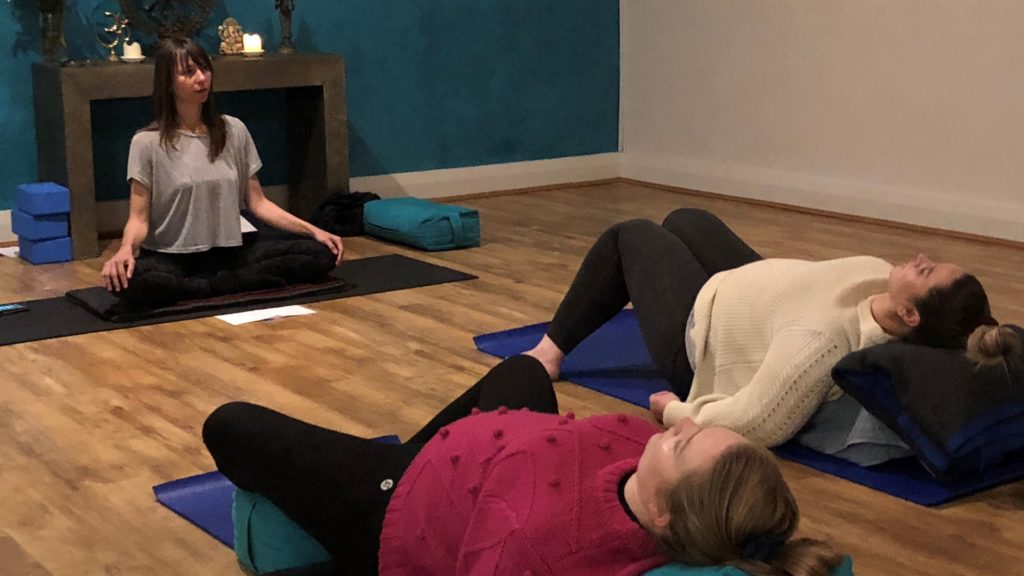 Our Pregnancy Yoga is a specialised, mindfulness-based approach that supports and empowers women to ease anxiety and thrive during all stages of pregnancy.

*Over the Summer holidays, we invite you to join our weekly Wednesday 6pm Hatha Yoga (pregnancy-friendly) class until our February course starts. Click here to book via our Class Timetable.
Our six-week course (and ongoing weekly classes) guides both new and experienced mums-to-be to deeply relax, to build resilience and overcome the many challenges of pregnancy – physically, mentally and emotionally.
"I really liked the way that you can link postures to stages of labour – it makes me feel more confident and prepared for birth." ~ Sarah
You will be guided to move with flow, incorporating stabilising, strength-building and relaxing yoga postures to maintain your vitality and keep your body in healthy shape.
We teach you how to relieve common pregnancy conditions and discomforts, as well as focus on toning the pelvic floor muscles in preparation for birth and beyond.
Find confidence and connection
With an emphasis on mindfulness and self-awareness, our approach to Pregnancy Yoga will help you to tune-into the innate wisdom of your body and to deepen the connection with your baby.
In all our classes we openly discuss pregnancy issues and concerns, birthing options and the progression to parenting, allowing you to ask questions, share tips and to develop a more mindful perspective in overcoming the natural worries that many women have.
"The midwife said she really noticed the difference with mothers that practiced yoga! The breathing and mental preparation through meditation I learned at your Pregnancy Yoga Course made all the difference for me. Thank you so much." ~ Julie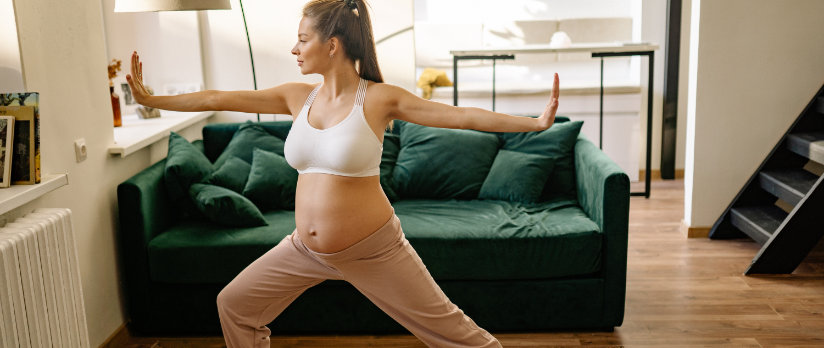 The Benefits
By coming to our weekly Pregnancy Yoga classes throughout your pregnancy you will:
feel energised and strong, as well as balanced and relaxed, in your body
calm your mind and emotions with specific breathing, visualisation and meditation techniques, that you can also practice at home
find confidence and acceptance in yourself, no mater what happens during your pregnancy and birth
enjoy quality 'self-care time' away from the busy-ness of life
become more mindful and self-aware
receive the personalised attention and support of our open-hearted yoga community.
"Thanks to your Pregnancy Yoga teachings, I was able to have a drug-free natural birth for my baby girl. I never thought the yoga poses and relaxation techniques would be quite so valuable, but it helped me beyond my expectations! Thanks again, I am recommending you highly." ~ Cath
Who Can Attend?
Suitable for complete beginners to yoga, as well as those who already have some yoga experience, our Pregnancy Yoga Course caters for everyone. We welcome women from all cultural backgrounds, ages and in all trimesters and stages of pregnancy.
Our six-week course is structured and builds week-by-week, with take-home practices.
Once you've completed the course, you can continue to come to our Wednesday night classes (as a casual student or to repeat the course) and be supported as your pregnancy develops, right up until the arrival of your baby.
"The best thing about your Pregnancy Yoga was taking time out to focus on my body and breath each week. Your teachings were non-judgmental and we truly focused on well-being and positivity, rather than giving an opinion or agenda about birth practices. Thank you so much!" ~ Mandy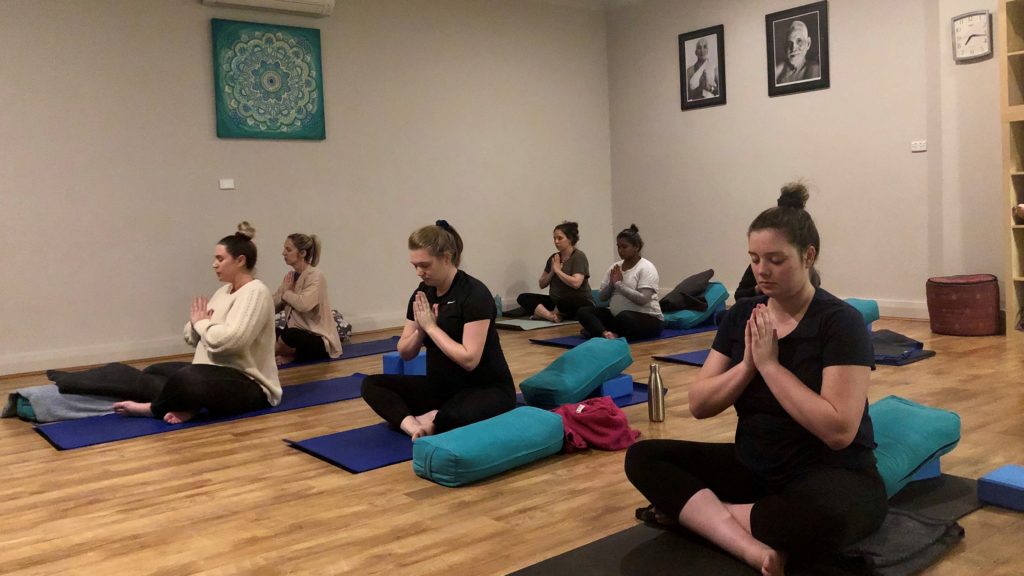 Our specialist Pregnancy Yoga teacher is Marianna Garaboni (pictured at the top). Also a qualified, compassionate Psychologist and Counsellor, Marianna teaches about using the body-connection to access a deep, intuitive knowledge. Marianna believes this connection allows women to remain centred and empowered as they go through childbirth, as well as the challenges of being a mother. Italian-born and a happy mother of three, we look forward to sharing her unique support, wisdom and practical tips with you!
What Women Say About Our Pregnancy Yoga Course
"Your Pregnancy Yoga Course was a great experience. It was very personal and what was special was there was always time to talk about things going on for us." ~ Tamara
"I enjoyed every aspect of your Pregnancy Yoga Course. We focused on a new technique each week that I could practice at home and teach my husband. It was very honouring of the beautiful women in the course and I always left feeling calm and empowered. I just wished it lasted forever!" ~ Maddie
"Your Pregnancy Yoga Course was above my expectations and I would recommend it to anyone. I learned skills and techniques that I will be able to use in labour and as a new mother. Being able to switch my mind off from everyday stressors during the meditation at the end of every session was so calming. I feel way more positive and confident about giving birth." ~ Emma
"I had my gorgeous baby boy Anthony on 17 November. We had a c-section because of some complications in the labour, but it was all good. I practiced the yoga breathing and postures very much during contractions, thank you for teaching me!" ~ Tai
"The opportunity to meet other expectant mothers and get little bits of information each week, that I wouldn't have otherwise known to ask was so helpful. Your Pregnancy Yoga Course taught me many different relaxation techniques – ones that actually work for me. It's been really worthwhile and enjoyable." ~ Jade
"I loved your Pregnancy Yoga Course. It became a vital part of my pregnancy each week with the helpful and supportive group. The relaxation techniques and birthing positions were a must-do for any pregnant woman." ~ Rachel
"We feel so happy with our little girl Anouk. My advice to new Mums yet to 'pop', make sure you've got a good support team. Shoulder massage and somebody telling you to take deep breaths and relax really helps. Thank you so much for your brilliant and inspiring Pregnancy Yoga classes – they really got me through my pregnancy." ~ Martine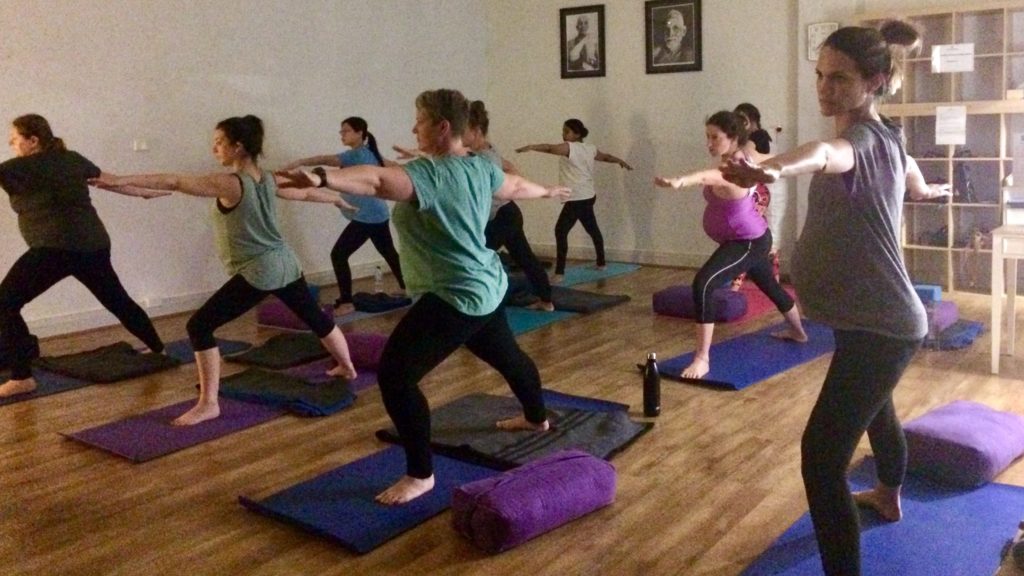 Booking Information
Each Pregnancy Yoga Course has a maximum of 15 participants – so we encourage you to book early to secure your place! If you're unsure about the course, you can book into the course and attend the first class as a trial. Then if you find it doesn't meet your needs, we will refund your course fee, less a class attendance and administration fee of $35.
Once we receive your course booking and payment, you will receive an emailed receipt to confirm your registration. Then the day before the course starts, you will receive a reminder email with details about what to bring and everything else you need to know.
We look forward to welcoming you to our friendly, supportive Pregnancy Yoga community!
DAY & TIME: Wednesdays 7.00 – 8.15pm
2022 DATES: 2 February – 9 March
16 March – 20 April
27 April – 1 June
8 June – 13 July
20 July – 24 August
31 August – 5 October
12 October – 16 November
23 November – 21 December (5 weeks for $125)
COST:  $150 single booking or $280 double (booking with a friend)                               

BOOKINGS: