Wisdom of the Heart Yallingup Retreat
Friday 2 ~ Monday 5 July 2021
Loving awareness is who we are. Freedom is the very nature of our own heart and mind.
Join Natalie for an intimate three-day retreat experience, immersed in the natural bush and ocean beauty of Yallingup, to awaken, deepen and strengthen your capacity for love, joy, wisdom and the unshakable freedom of your heart.
This retreat is an invitation to find greater trust within yourself and the unfolding circumstances of your life.
Apply skills and approaches from Yoga and Buddhism to feel more deeply connected to, and to live from, the wisdom of your heart in daily life.
Be held in a safe, fun space with like-minded others to hear your inner voice, share insights and perspectives, with coaching guidance and support.
Engage in philosophy, self-enquiry and coaching workshops where we courageously explore our self-growth 'edges'.
Be nourished with fresh, delicious, vegetarian meals, morning, noon and night, prepared onsite by our very own Margaret River foodie.
A Place of Love
Our retreat venue is Premalaya, a beautiful, rural, private property amongst the trees, just off Caves Road and 10 minutes from Yallingup and the beach. Premalaya's mission is 'to create a place of love.' It offers us simplistic luxury and is the perfect place for us to peel back the layers.
Accommodation is in modern chalet apartments with your own queen or twin-share bedroom, each with ensuite bathroom. Facilities include reverse-cycle air conditioning, spacious kitchen and living areas, hair-dryers, linen and towels, free WIFI (if you need it) and several with a deck balcony.
The property includes a natural running creek and tracks for walking. The spacious onsite yoga shala (room) is equipped with yoga mats, bolsters and blocks – and will be our home for practice sessions and workshops.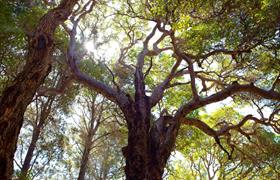 The Retreat Experience
Coming on a retreat is more than just a holiday or weekend away. Its an immersion for deeper personal growth, as well as rejuvenation.
Leaving your day to day responsibilities behind gives you extra focus and energy to put towards the things that really matter, that often get neglected in our daily life, like our personal growth and spirituality. The combination of relaxed time to yourself and yogic practice – with others doing the cooking and organising! – is like a kickstart. It creates the conditions for you to experience empowering insights and shifts that otherwise might take much longer to be realised.
Many retreat participants say that the effects of our retreats stay with them long after they've returned home.
"I felt very privileged to have been part of Natalie's retreat. The experience is life changing and I feel I learned so much in such a short time. It's hard to put a value onto this experience. I feel with Natalie's guidance we all learned about the deeper meaning of our being. My experience has been truly amazing, thank you." ~ Sabine
Each day on retreat begins peacefully just after sunrise in silence with guided meditation, pranayama and yoga practice. We will explore the gross (body) and the subtle (energetic) layers of ourselves to cultivate a deep, inner stillness and expanded radiance. Natalie's approach to yoga asana is playful and explorative, with energising vinyasa in the mornings and restorative asana in the evenings. All yoga sessions are suitable for beginners as well as experienced students and yoga teachers. Beginners to yoga or meditation will be given extra support.
There is also ample personal free-time on the daily schedule for bush-walking, quiet reflection, reading or a visit to the beach.
Facilitation & Food
The founder and owner of Momentum, Natalie has been leading transformational retreats in Margaret River, Bali and India since 2013.
An experienced yogi, meditation teacher and coach, Natalie's passion is to share the love, wisdom and benefits of transformation, and living from the heart. Natalie has also spent considerable time on her own Vipassana retreats, integrating the gems of Buddhist practice and philosophy. A genuine 'people-person' Natalie has an engaging presence and enjoys guiding others with warmth and compassion on their personal growth journey.
Mohini of Mohini Soulfood creates soul food from her heart to your belly! Born a foodie, her passion for preparing local, fresh, organic and wholesome food began as a girl in her family kitchen, learning the art of taste and how to 'cook with love' from her grandmother and mother. Her food is amazing! She will be preparing our daily vegetarian breakfasts, lunch and dinner (plus a few snacks) using fresh, local, mostly organic ingredients.
"Your retreats are my first choice when it comes to helping myself to grow. Your yoga is first-class and there's a realness and relatability, that's not intimidating or too difficult for anyone. I always leave feeling inspired, alive and aware." ~ Carlia
Retreat Package
Places on this retreat are limited to 14 people. There are six single rooms and three twin-share rooms. Where you choose the twin-share option, if you are attending alone, we will place you with another person of the same gender and similar age. Your retreat package includes:
* 3 night's single room or twin-share apartment accommodation at Premalaya.
* All vegetarian meals – breakfast, lunch and dinner daily.
* Twice daily guided yoga and meditation practice.
* Minimum of twice daily philosophy, self-growth and coaching workshops.
* A journal and take-home folder of workshop notes and activities.
The retreat commences at 4.30pm on Friday 2 July and concludes at 12noon on Monday 5 July. Participants need to commit to attending the full retreat. Work and travel should be well-planned to enable you to gain the maximum benefit that the retreat offers. Yallingup is a three hour drive south from Perth.
Booking Details
ALL TWIN ROOMS ARE SOLD OUT. TWO SINGLE ROOMS ARE AVAILABLE!
Please read our Retreat Refund Policy before making your booking. This includes information on any restrictions that may arise due to Covid19.
Deposit: $100 twin-share room deposit – non-refundable and non-transferable deposit to secure your booking
$150 private room deposit – non-refundable and non-transferable to secure your booking
Cost: $1100 total: twin-share room – payable upfront or via Payment Plan (two payments of $500 each)
$1300 total: private room – payable upfront or via Payment Plan (payments of $500 and $650)
Payment plan payments are due by 16 July and 6 August.
Register: To book one of the last remining places, contact Natalie on 9330 1988 or info@momentumcoachyoga.com.au.
You will need to complete the online Retreat Registration Form and make your payment, to secure your place.
Details will be provided for the online payment options.
We look forward to welcoming you for this special retreat experience!