Beginners Yoga Course
MONDAY 13 & THURSDAY 16 JUNE 2022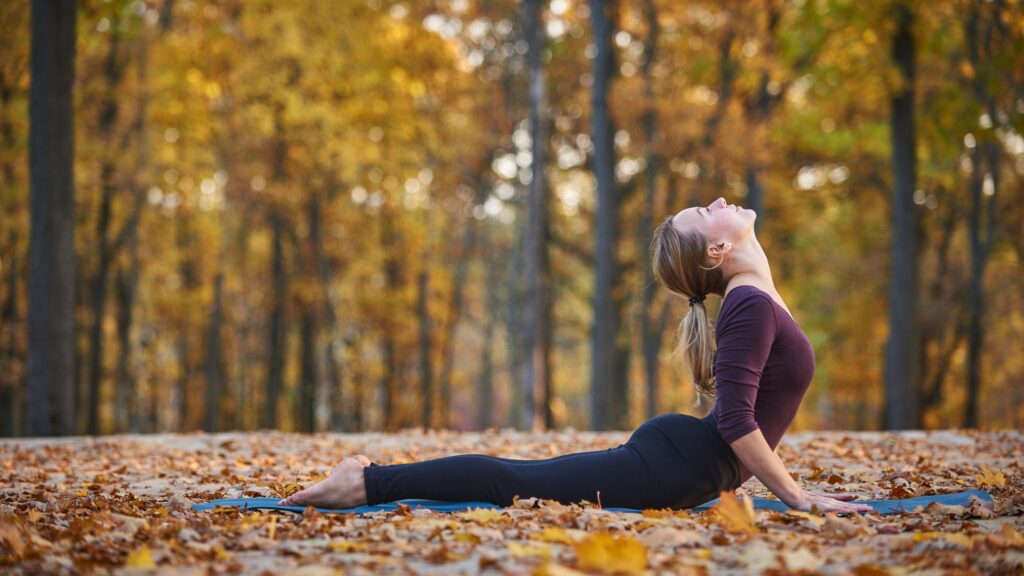 Suitable for complete beginners, if you are new or getting back to yoga, Natalie's popular six-week Beginners Yoga Course is a great way to get started! With friendly small groups and flexible attendance at two classes each week to optimise your learning, its the best of its kind around.
Natalie's approach to yoga is inclusive, explores the spiritual aspects too and welcomes men and women of all ages and physical fitness.
Transform your life and learn the foundations of authentic Hatha and Vinyasa Yoga. Discover how yoga works from the inside-out to relieve stress and bring you back to your best self.
Take advantage of the $110 SPECIAL OFFER available only for a limited time – and save $60 off the regular price!
Yoga can quickly bring you tremendous physical and mental benefits that allow you to:
* Reduce stress and anxiety.
* Feel stronger, fitter, more flexible and toned.
* Calm the mind with your breathing.
* Slow down and reconnect with yourself.
Whatever your reasons, if this resonates with you, I encourage you to put your interest into action and make your booking today! Places in the course soon fill and I'd love to have you along if you are keen.
"This was a wonderful introduction to yoga for me and had definitely helped my wellbeing. I have improved my flexibility, ability to switch-off after a busy day and awareness of my breath." ~ Chelsea
WHAT'S INCLUDED
You get access to 12 specialised beginner classes – two held each week- over the six-week course block. Attendance is flexible. Come once or twice a week, as your schedule allows.
All classes are held face-to-face in a spacious church hall in Bicton, with a maximum of 15 beginner students per class. Venue details are below.
You'll receive my personalised, expert guidance. I'm a friendly and highly experienced teacher, having taught this course to thousands of students over 15 years. I take special care in getting to know you and providing thorough instructions, tips and motivation that's essential for starting out well in yoga – that just can't be learned from a general gym class or online video without the heartfelt presence of a good teacher.
"Your Beginners Yoga Course is very professional and of a high standard. What was especially helpful was how everything was explained well to us. It helped me to be in the moment of learning." ~ Brett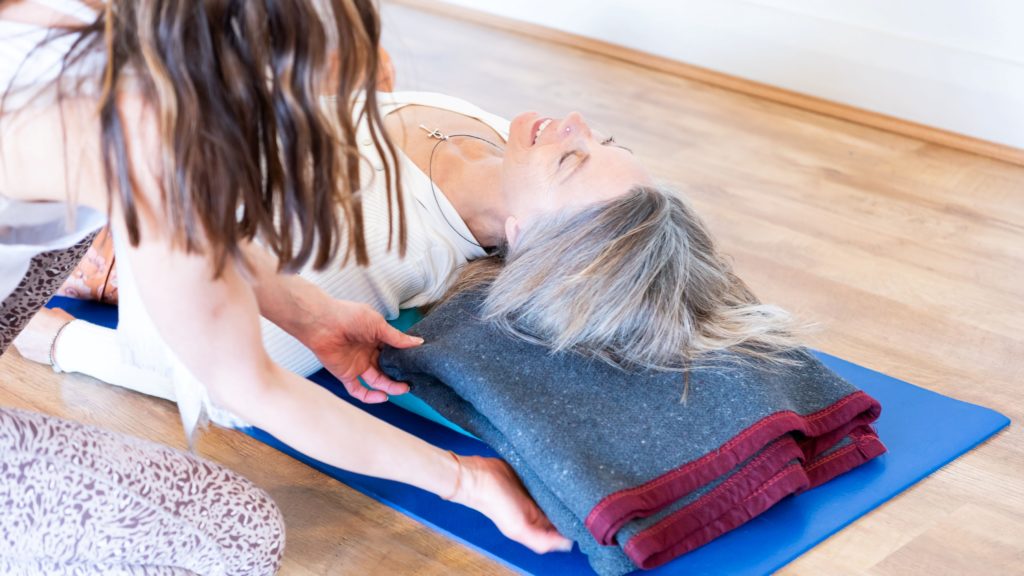 THE BENEFITS
The benefits of my approach to beginners yoga build and deepen with time and regularity. By practising at least once per week for six weeks, you will:
mentally unwind
improve your physical strength, posture and flexibility
breathe fully
get a better sleep
develop compassion, patience and self-acceptance
reduce the risk of cancer, heart disease and diabetes
feel more relaxed
become more mindful and self-aware.
"It is amazing how the little things we do can have a changing or knock-on effect. I attended your Beginners Yoga Course class last night I slept through the night – in the past 20 years I can count on one hand the nights I have been able to sleep through. This is a huge shift for me and I know its the yoga. Thanks for the supportive way you teach your classes and encourage students. Looking forward to more! " ~ Yolanda
WHAT YOU'LL LEARN
Learning the foundations to practice yoga safely and with integrity is important, especially if you are just beginning. My Beginners Yoga Course is structured and builds week-by-week, with set learning objectives.
You'll get a thorough introduction. Hatha yoga has an emphasis on proper body alignment in postures to balance energy and Vinyasa yoga synchronises postures with the breath to create flow.
You will learn yoga principles and techniques including:
an emphasis on being self-accepting, non-judgmental and non-competitive;
breathing fully and deeply;
moving mindfully;
how to focus and be present;
safe positioning and correct body alignment;
how energy flows;
a range of body postures – lying, sitting, balancing, standing and inversions;
how to be still, comfortable and relaxed.
I also guide and encourage you to apply what you learn in class, into your every day life.
"I learned the importance of balance between the mind and body. You enabled everyone to do everything, at whatever level of flexibility they were. Your Beginners Yoga Course was excellent." ~ Pia
WHO CAN ATTEND?
The course is ideal for both men and women of all ages, levels of fitness and flexibility, who are complete beginners to yoga. It's also great as a refresher for people returning to yoga after a break or who want to revisit the basics. Teenagers aged 16+ accompanied by a parent are also welcome.
If you are pregnant this course is not appropriate for you. Pregnant women have special needs that cannot be fully addressed in a general course – try searching instead in your local area for pregnancy yoga.
After the course, students are skilled to be able to join any of Natalie's classes on the weekly timetable. If you feel you need more experience at the beginners level, you are welcome to repeat the course up to three times.
Check our current Covid information for any restrictions that might apply.
"You've helped me to de-stress and increase my flexibility for the long-term. I'm so much more aware of my body and what it can and cannot do! Your Beginners Yoga Course classes are professional, yet spiritual, as well as fun." ~ Craig
WHEN ARE THE CLASSES?
Twice weekly beginner classes are held:

MONDAYS: 7.15 – 8.30pm
THURSDAYS: 6.00 – 7.15pm
You can start the course in week one – or even week two, if places remain. Remember that attendance is flexible for once or twice per week. If you start in week two, you pay the same amount and attend classes for just five weeks.

All yoga mats, bolsters and other gear is provided. We use props to help support your body. You are welcome to bring your own yoga mat if you have one. There are also good quality yoga mats for sale.
"Your course was well set-up. I loved how everything connected for each class so all the postures led to a better downward dog pose. Even though I have attended yoga classes at the gym, it was great connecting why you practice certain poses and how they link your body and mind." ~ Emma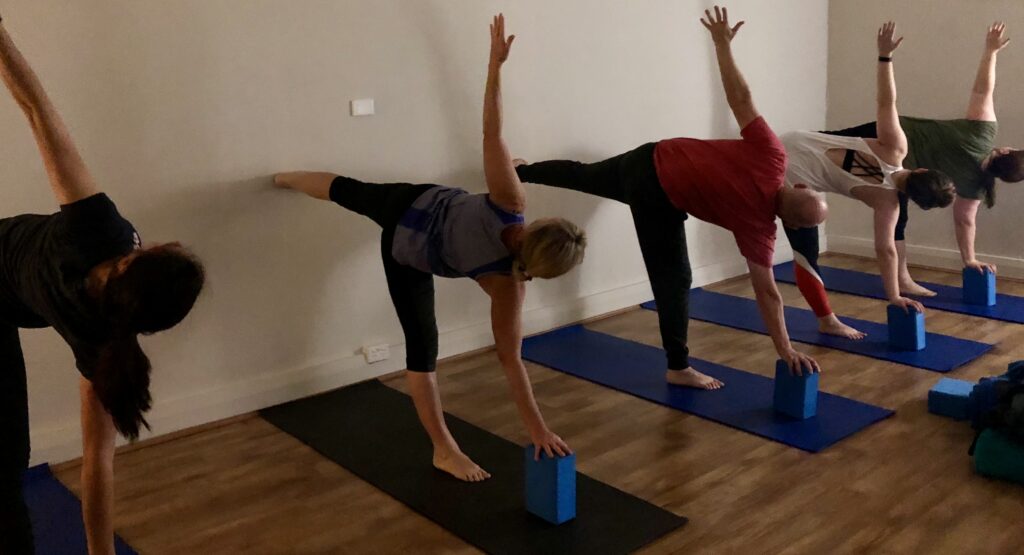 BOOKING DETAILS:
SPECIAL OFFER places on each course are for a limited time only! Once all places are filled these spots will no longer be available to buy – there's no need to call first to check.
Once you make your booking payment, you will receive an emailed receipt to confirm your registration. Then a few days before the course starts, I'll send you a reminder email with everything you need to know to get started and a link to book into your classes.
Have questions or concerns? I'm happy to have a chat! Please call Natalie on 9330 1988 or email info@momentumcoachyoga.com.au and I'll respond straight away.
2022 DATES:
Monday 13 June – Thursday 21 July (six weeks) EARLY-BIRD SPECIAL ENDS
COST: $110 Special Offer or $170 Regular Price

VENUE: St Christopher's Anglican Church Hall, 120 Waddell Road, Bicton. Click here for a map.
BOOKINGS: